Diy mason jar lighting ideas
Hi y'all! Despite having some technical difficulties this week (sometimes computers get saucy and put up a fight), I'm so excited to be sharing this project with you. If you're not a Pin-a-holic, you may not know this, but mason jar projects own run rampant. So this one is entire white noise in the sea of mason jar awesomeness out there, but I'm stoked to finally own this in our house!I am bound and sure to change up our builder grade basic materials in our home to make it more "us" and let it own some personality. This project was super duper simple and only cost me 6 bucks! Yup. Cheapo. And I did it in about 20 minutes entire (Robert's installation included)Supplies used:  (Affiliate links are provided under.
For more information, see my full disclosure.)
Oil rubbed bronze spray paint (This one is my favorite.)
Hammer and 1 nail
2 mason jars (or however numerous lights your fixture has) – I chose the smaller ones, but the large ones work too.
A Sharpie
And, of course, your builder grade light fixture  (This one and this one are similar to mine and you could purchase it already in oil rubbed bronze if you wanted to eliminate some work.)
After detaching the builder grade shades and bulbs and my hubby took the fixture off of the wall (I'm a slave driver, I know), I gave it two coats of the oil rubbed bronze spray paint.While I waited for the paint to dry, I went to work on the mason jars by using the flange from the fixture (it took me forever to ponder of what this little do-dah was called) and traced it on the middle of the jar lid with the Sharpie.
(Please ignore my terrible fingernails. I'm in desperate need of a mani. Mothering a toddler takes priority.)From here, I just started nailing holes shut together around the traced circle. It was easier to hold the lid on the jar.And here it is every nailed out. No power tools needed! After this step, I painted the lid rings too.
 All it took was a little pressure and this little guy popped correct out of the lid.
I thought I could just punch it out with my thumb, buuuut I thought incorrect.
I succeeded, but I paid the price. Don't be a hero, y'all! Use a screwdriver or something for goodness sake! It is jagged metal, after every. (FYI, every the cool kids wear Snoopy Band-Aids.)
Once the paint was dry and both jar lids were cut out, I had to overcome my hair-brained self to figure out this step.
I put the cut jar lid top on first before realizing the lid ring should be the first thing to slide on, so that was crazy hard to tug off (and my wimpy injured-thumbed self had to tug out her large girl straw and suck it up). So HERE is the order of operations. It's not that complicated; I just had an airhead moment. Welcome to my world. ?And that was it!
I used an Edison bulb to give it a little additional vintage flair. Even though I'm every for saving energy, I hate the day-to-day functionality of energy efficient bulbs. It takes a while for them to warm up, so by the time they're bright enough to light up our tiny powder room, I'm already leaving and flipping off the switch. Ridonculous. Edison bulb it is.This little light has so much more personality now! And it's definitely more "us" than the basic one we had before.So that's one more thing we can check off the list for the powder room.
One of these days, I'll own to make the other brushed nickel pieces in here match the finish of our light. And I would loooove to own this faucet in the distant future. Baby steps, Lauren, baby steps.It's looking beautiful spectacular with my HomeGoods mirror too. ?This project marks the official halfway point of personalizing our downstairs lighting. If you missed it, I already did our foyer and hallway. The kitchen and dining room are next on my radar!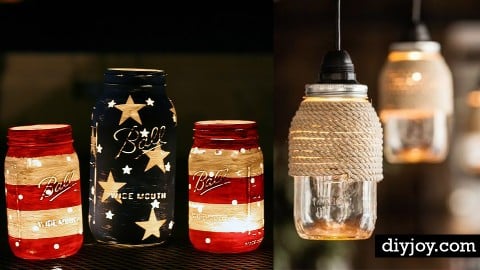 I'm a force to be reckoned with when it comes to our lighting lately. Must. make. them. match!As a little teaser for next week, I wanted to do a little something to give back to you guys for checking in on me and my DIY madness. Y'all are the reason I hold this momentum going.If you liked this post, check out these other lighting makeovers:
(Just click the image.)
   or
Filed Under: DIY Projects, Home Improvement
Tagged With: Builder Grade Redo, DIY, Lighting
Are you thinking what I'm thinking? Yes! Valentines Day is just around the corner – 52 days, 9 hours, 47 minutes to be exact.
And I know you are just as excited as I am because this day, not only adults get to celebrate the fullness of their hearts but we teens too! So. Own you figured what to give to your special someone? Ponder mason jars, of course! Boyfriend, girlfriend, BFF or family members, here are 34 DIY Mason Jar Valentine Crafts that will absolutely make your recipient drop in love with your thoughtfulness! These are super simple to make, with cheap and simple to discover materials.
So what are you waiting for? Start scrolling to decide which one your need to make as gifts and which ones you must make for yourself!
Valentine Candy Bouquets Mason Jar
jennycollier
The way to a woman's heart is through her stomach. The way to a man's heart is through her stomach. Wait, what? But yup.
S'mores Valentines
anightowlblog
This is a perfect present to anybody that holds a special put in your heart.
You can never go incorrect with s'mores.
Sources
Ball jars HERE
Grapevine Wire HERE
Burlap Ribbon HERE
White Lights HERE
Cast Iron Hooks HERE
Valentine Heart Jars
masonjarcraftslove
Three mason jars for I – LOVE – YOU and a lot of hearts for the overwhelming love. <3
You Might Like…
      DIY Porch Chandelier 
Mason Jar Flower/Candle Chandelier
Mason Jar Christmas Light
Mason Jar Snow Globes
By Robin127 CommentsFiled Under: Every Things Burlap, Every Things DIY!, Every Things Summer, Every Things: Tutorials, DIYTagged With: diy mason jar light, diy mason jar outdoor light, diy mason jar pendant, diy outdoor light, diy porch light, mason jar projects
Sharing is caring!
RELATED VIDEO: